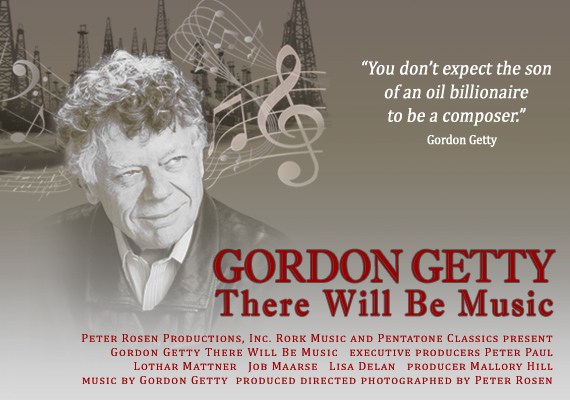 Broadcasts of the acclaimed documentary Gordon Getty: There Will Be Music continue into the fall, with showings across the continental United States.
Feature presentations include September 18 on WLIW in New York and KOCE in California, WTTW in Chicago, and again on October 21 on WLIW. View the list below for full details.
Find Gordon Getty: There Will be Music on your local station.
September 18:
WEKW (Keene, NH)
KAET (Phoenix, AZ)
WTVS (Detroit, MI)
KWCM (Appleton, MN)
WPBT (Miami, FL)
WVIZ (Cleveland, OH)
KVIE (Sacramento, CA)
KETC (St. Louis, MO)
WQED (Pittsburg, PA)
WTIU (Bloomington, IN)
WTCE (Cookeville, TN)
September 19:
WLIW (Garden City, NY)
KOCE (Huntington Beach, CA)
WTTW (Chicago, IL)
KQED (San Francisco, CA)
WENH (Durham, NH)
WEKW (Keene, NH)
WGTV (Atlanta, GA)
WEDU (Tampa, FL)
KAET (Phoenix, AZ)
WTVS (Detroit, MI)
KWCM (Appleton, MN)
WPBT (Miami, FL)
WVIZ (Cleveland, OH)
KVIE (Sacramento, CA)
KETC (St. Louis, MO)
WQED (Pittsburg, PA)
WTIU (Bloomington, IN)
KPBS (San Diego, CA)