Four Dickinson Songs
Set of four songs for high voice and piano
Poems by Emily Dickinson
Running time: 6:30
Safe in Their Alabaster Chambers
A Bird Came Down the Walk
There's a Certain Slant of Light
Because I Could Not Stop for Death
Orchestration: flute, clarinet, bass clarinet, bassoon, contrabassoon, percussion, harp, keyboard, strings
Reviews
Gordon Getty is on his best and most infectious behavior with his Dickinson settings, perfectly nuanced to the unusual and often quirky pauses of Emily Dickinson in a way that perhaps only Aaron Copland could have managed. Woolf's unusual and evocative love poems by Rumi had to be a challenge as the words themselves are so highly perfumed to begin with. The brilliance of these settings is in the sparseness of the harmonies (also adding a cello), allowing Rumi to shine through in all his glory.
Steven Ritter
Audiophile Audition, 2013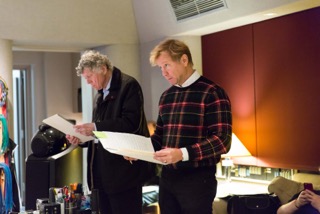 The poetry of Emily Dickinson has been set by many composers very effectively, and Gordon Getty proves himself worthy to be in their company. These elegant settings of her "Safe in Their Alabaster Chambers," "There's a Certain Slant of Light," "A Bird Came Down the Walk," and "Because I Could Not Stop for Death" all distill the essence of Dickinson's lyrical poetry.
David DeBoor Candield
Fanfare, 2013