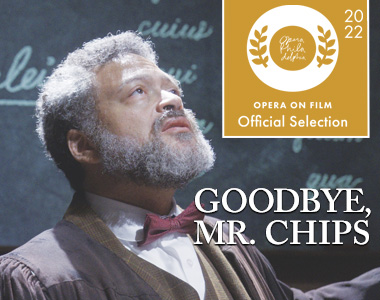 Out of more than 800 submissions, Gordon Getty's opera Goodbye, Mr. Chips has been chosen as one of the 20 official selections to be screened at Opera Philadelphia's first Opera on Film series, part of Philadelphia's renowned Festival O. Goodbye, Mr. Chips will be screened on Sunday, October 2, 2022, 4 p.m. at the Philadelphia Film Center.
Getty's fourth opera, based on the 1934 novella Goodbye, Mr. Chips and other stories by James Hilton, was originally planned as a fully-staged, live opera performance, but after COVID-19 cancellations, the team reimagined the work as a film.
Directed by Brian Staufenbiel and conducted by Nicolle Paiement, the film features tenor Nathan Granner in the titular role of Mr. Chips, soprano Marnie Breckenridge singing Kathie, baritone Lester Lynch as Dr. Merrivale, and bass-baritone Kevin Short as Ralston and Rivers, as well as members of The Young People's Chorus of New York City (Francisco J. Núñez, Founder and Artistic Director) representing the boarding school's students.
View the "Goodbye, Mr. Chips" Trailer here.