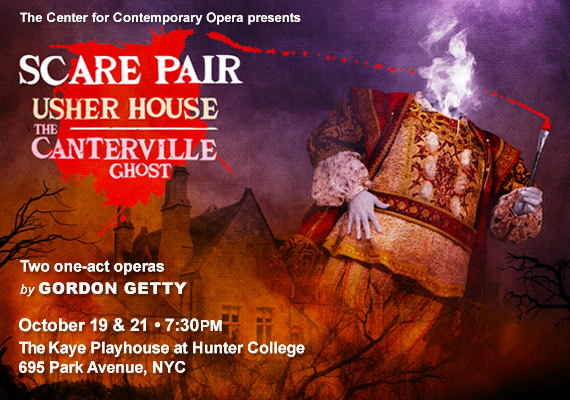 Gordon Getty's double bill of Usher House and The Canterville Ghost comes to New York this fall with two performances at the Kaye Playhouse. Presented by the Center for Contemporary Opera, the Scare Pair takes the stage on October 19 and 21.
The cast features Dominc Armstrong, Keith Phares, Summer Hassan, Matthew Burns, Kevin Wetzel, and Jessica Ann Best. Directed by Brian Staufenbiel and conducted by Sara Jobin, the production features projections by multi-media artist David Murakami, costumes by Callie Floor and scenery by Dave Dunning. Based on stories written by celebrated the authors Edgar Allan Poe and Oscar Wilde, Gordon Getty's compositions evoke the unsettling atmosphere and settings of these classic tales.
Discover Usher House and The Canterville Ghost on stage this October in New York, or in Los Angeles in June of 2018.