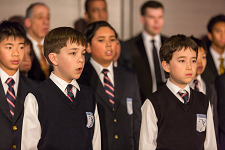 San Francisco Boys Chorus Gala
Dates: Saturday, March 14th, 2020 at 6:00PM
Presenter: San Francisco Boys Chorus
Venue: The St. Regis Hotel 125 Third Street San Francisco, California 94103
POSTPONED due to COVID-19 outbreak.
The San Francisco Boys Chorus will honor Mr. Getty for the upcoming premiere of his opera Goodbye, Mr. Chips, his longstanding support of the Chorus and his generous contributions to the arts.
The Chorus will perform "All Through the Night," one of Getty's Three Welsh Songs and "Lovliest of Trees" from his Victorian Scenes.